Posts Tagged 'Nursing in Daily Life'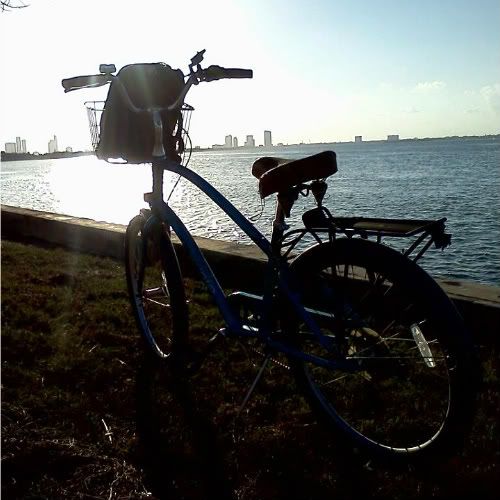 Back in 2010 I had this idea to go car-lite, then eventually car-free. I had a tag for it on my blog, I was taking notes on expenditures to validate my findings, and I was generally pumped up to do it. Then my bike got stolen, my class schedule changed, I lost impetus and it all fell by the wayside. Fast forward two years.
Much like in 2010, right at the start of classes in January my car was put out of commission, this time with the brakes ceasing to work instead of me getting my license suspended. My school is just on the other side of the bay from Miami Beach; it took me 6-7 minutes to get there by car, and being right next to the hospitals, it gets excellent public transportation coverage. So the next day I took the bus, decided it was doable on a regular basis, and after purchasing the reduced-cost bus pass for students, I made the switch entirely to public transportation.
I have not regretted it at all. Even though there are mornings when I arrive a few minutes late because of missing the bus, I still take it over the hassle and costs of driving.
In February, when my clinical rotations started, I happened to have my wife's car available those two weeks, and when I didn't, I car-pooled with a classmate. My next clinical rotation was at a hospital that is only 3.1 miles from my house, so now I get to commute by bicycle twice a week.
And I absolutely love it. I wake up early, yes, but then I ride for about 20 minutes around Miami Beach as the sun is rising. I get to take pictures in dramatic light. I get to arrive fully awake and ready to rock, whereas my classmates all arrive sleepy and groggy. Then in the afternoon I get to ride at a leisurely pace, stop along the way (maybe for a beer, maybe for a donut) and get home still with ample time in the day and some 7+ miles bicycled in m pocket. Seriously, what is not to love?
My car has been parked for two months and I have had absolutely no need for it. I have learned to live with the extra time public transportation/bike commuting requires and decided that the savings in cash and driving aggravations more than make up for it. I get in incidental exercise twice a week and help the environment just a little bit.
At this point I am considering selling my car and using that money for bus passes during the year. That means I'll save the money I'd spend on repairs, parking permit, insurance and tag renewal. Even with a possible clinical rotation during the summer some 30 miles south (and an accompanying 3-hour public transportation ride starting at 3 AM), I am sure that it is the right thing to do now.
And how does this tie in with nursing, aside from the obvious connection with going to school and clinicals? This is role-modeling at its best. Although I have yet to take my Community Nursing class, I know it is an area with appeal to me, and one where I will seek to integrate my love of bicycles as much as possible. What I'm doing now can be considered research; it's walking-the-walk so that I can talk-the-talk in the near future.
So, two years later, but look at that, I have achieved my goal of being car-lite, and eventually car-free!
This Saturday I sent a man to the hospital. In a good way.
Every Saturday/Shabbat, myself or someone from our synagogue goes to the nearby Assisted Living Facility (ALF) to get one of its residents, GU (initials only for privacy), to come spend morning prayers with us and then we take him back after lunch. It's about his one outing for the week and his one chance to do some serious exercise, walking the 2.5 blocks between the two locations. He's in his 80s, but he's strong and fairly independent, which is great and how I would like to keep it. When I pick him up, I walk alongside, stop as often as he needs to, but always encourage him to walk by himself as opposed to using a wheelchair as some have suggested. He does have mild dementia in that he's always reminiscing about WWII and all the twists and turns that caused in his life, but it's not like he's not aware of the current time and place as well. GU is feisty and strong and he has it in him to keep on ticking.
So when I went to pick him up this past Shabbat and did not find him in his usual spot waiting for me, I thought that strange. Even more strange was that the nurse's aide found him in his room, in bed. He said he didn't feel well, and my reply was, "Oh, ok, no worries. Tell him that I came and I'll see him next week." This is where it turns out it was a good thing I was the one to go pick him up instead of another man from the synagogue: the nurse's aide said that he had had an incontinence episode. I know GU and that is entirely out of character for him. When she offered me the chance to go see him in his room, I took it.