Posts Tagged 'Music'
Music has always featured in one way or another in my fiction writing, though mostly it has been in an inspirational guise. I don't play music while I'm writing, but songs that I've heard have, at times, fueled everything from scenes to entire stories. To this day there are a couple of songs that I can never listen without thinking of the story they inspired me to write years ago.
As I approach a much-needed break from nursing school in a couple of weeks, I find myself desperate to start the rewrite of my novel, which I started for NaNoWriMo and finished last December. When I say I'm desperate, I mean it. I need to get that story done with, get those characters out of my head and into the page once and for all. Why? Because they are living, breathing people caught in stasis and they take over my thoughts and my emotions. And it gets very tiring feeling other people's emotions on top of your own.[ref]This is where non-writers look at me kinda funny and think I'm loosing my marbles, while writers nod in full understanding.[/ref]
Thing is, one of the key aspects I know I need to strengthen during my rewrite has been stymieing me for a while now. I know what the end result I want is, but I also know I need to better portray it in the novel for some of the emotional punches to really hurt. I've been struggling with the nature of the relationship at the center of this issue and I just couldn't quite see how I'd work that problem out.
Enter a new song into my jukebox.
I heard this song by Gotye just last week for the first time, and today my classmate played it in her car while she gave me a ride. The words snuck into my head unknowingly. When I got home I found that I was humming it absentmindedly… And that something in the lyrics had suddenly made things click in regards to the problem I was having with my novel! I still don't know what it was: the music, the melody, parts of the lyrics, the emotion conveyed. Something. Whatever it was, I have now taken notes that will help me during my rewrite and finally allow me to bring my novel to completion.
I absolutely love it when a song does this to me.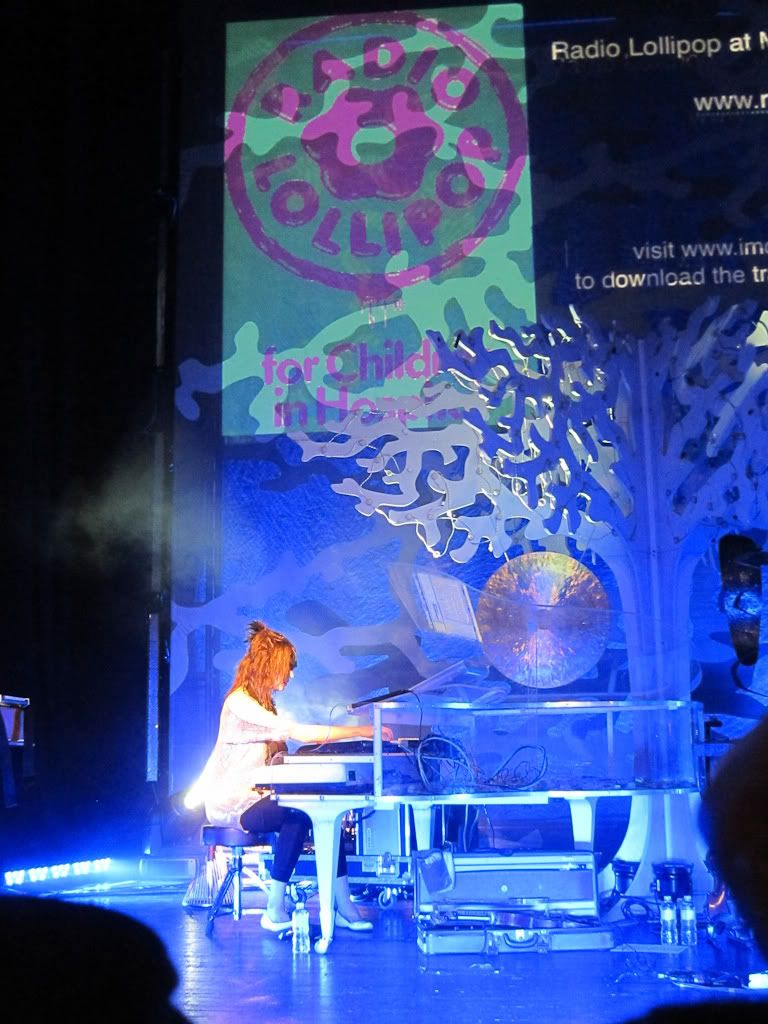 I knew of Imogen Heap; her name is uncommon enough that once you hear it, it tends to stick in your memory. I knew of her from the song "Let Go," featured years ago in the soundtrack to Garden State (though it took some time before I learned that strange voice belonged to a woman!). Beyond that I had heard a couple songs here are there, especially on Pandora, where her music would sometimes come up as part of some of my playlists. So I knew of Imogen Heap, but I didn't really know Imogen Heap. Until last night.
It was my wife's idea to go see her in concert at The Fillmore in Miami Beach; tickets were cheap, general admission and given her non-top-40-radio status, the attendance would probably be manageable. Sure! And then it snuck up on me. Yesterday I played her latest album, which you can stream from her website, but that was it. I was going in cold, ready to soak up the new music.
There were three short opening acts: Euphoria, a trio of high-school kids from Boca Raton who won a contest held by Imogen; Geese, a violin/strings duo who are also part of Imogen's band; and Ben Christophers, a guy and his guitar, also part of Imogen's band. They each played 3 songs (Ben did 4) and were each good. The kids from Boca were very good for this being their first show (and what a show!); Geese was weird (in a good way), using computers, loops and effects to create soundscapes; and Ben was fine with his guitar, especially on a very trip-hoppy number that actually got the audience listening. About half an hour after these three acts were done, Imogen took the stage.